Rosas danst Rosas
#MadeInBxl
#BigNames
#Tender
21—29.06.2017
Exhaustion, tenacity
In 1983, Anne Teresa De Keersmaeker firmly put her newly formed dance company Rosas on the international map with Rosas danst Rosas. The choreography builds on the minimalism initiated in Fase – which she created the year before – and has become a benchmark in the history of post-modern dance. Abstract movements are the foundation upon which a multi-layered, almost mathematical structure replete with repetition assumes the leading role. The ferocity of the language of movement is countered by small, everyday gestures. Thierry De Mey and Peter Vermeersch's repetitive, 'maximalistic' music was created side by side with the choreography.
Rosas danst Rosas is undeniably feminine. Four dancers dance themselves, again and again and again. The exhaustion and tenacity brought about by the dance gives rise to an emotional charge, which at the same time contrasts sharply with De Keersmaeker's rigorous choreographic framework. For this revival, an entirely new, young cast will dance Rosas danst Rosas.
Riveting and exhausting, fascinating and relentless, brilliant and tedious, it is a mesmerizing exploration in synchronicity, patterning and rhythm. — NEW YORK TIMES
Rosas danst Rosas remains confrontational, retaining its considerable power to baffle, frustrate and intrigue. — The Observer
Reprise van een geniaal dansfeest — De Tijd
La magie intacte de "Rosas danst rosas" — La Libre
Trente-quatre ans après sa création, la pièce fondatrice de la compagnie d'Anne Teresa De Keersmaeker est de retour. Toujours aussi percutante. — Le Soir
choreography Anne Teresa De Keersmaeker | danced by Laura Bachman, Léa Dubois, Anika Edström Kawaji, Yuika Hashimoto, Laura Maria Poletti, Soa Ratsifandrihana, Jara Vlaeminckx, Amanda Barrio Charmelo (alternating) | music Thierry De Mey, Peter Vermeersch | musicians (recording) Thierry De Mey, Walter Hus, Eric Sleichim, Peter Vermeersch | light design Remon Fromont | costumes Rosas | world premiere 
06/05/1983, Kaaitheaterfestival at Théâtre de la Balsamine (Brussels) | production 1983 Rosas & Kaaitheater | co-production 2017 TBC | Rosas is supported by the Flemish Community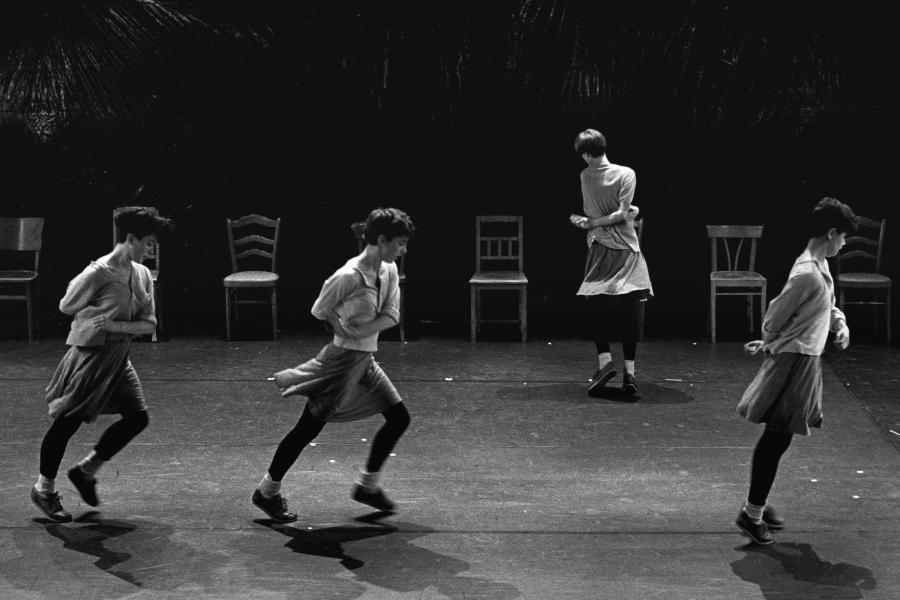 DURATION : 95 min.
Inleidingen een half uur vóór de aanvang van de voorstellingen door Lodie Kardouss (in het Engels), uitgezonderd op zondag 25/6
Presented by
Kaaitheater
De Munt / La Monnaie