NECROPOLIS (+18)
How to Tell Many Stories?
28—29.10.2022
Arkadi Zaides and his team are building an archive of bodies that were admitted to Europe only as bodies. Their starting point is the death list of migrants attempting to reach this continent and start a new life. This in order to conceive a virtual depository to document the remains of the many whose deaths are to this day unacknowledged. At the bottom of the sea, on the shores, and inland, a mass of decomposed bodies tells the story of a collective whose ghost hovers over European territory.  
Zaides and his team uses a hybrid methodology consisting partly of a documentary and investigative approach, partly of choreographic practice. This growing archive, this map, this invisible landscape is stretching in all directions across space and time, interrelating the mythologies, histories, geographies and anatomies of those who have been granted entrance to NECROPOLIS. Freedom of movement needs to be returned to the bodies who are admitted to Europe as corpses. And although in the City of the Dead there is no-body left to dance, it is exactly that no-body, that body of the bodies - the body of NECROPOLIS - which Zaides aims to animate back to life.  
On stage, members of the team present the result of their investigation and delve into the darkest recesses of the list. It is an invitation to partake in the sensory discovery of a ghostly virtual territory, to question your actions, your sense of accountability as well as your role as a citizen. 
• Arkadi Zaides is an independent Israeli choreographer and visual artist, of Belarusian origin, currently living in France. After a career as dancer, he embarked on his own artistic path. He focuses on the ways in which political and social contexts affect the movements and gestures of bodies. He collaborated on Jozef Wouters' Infini #1 and toured around the world with his solo Archive.  In 2019, he participated in the Kaaitheater symposium 'The School of Speculative Documentary'. 
"Arkadi Zaides places himself in this vein between performance and dance which proves, and this is a very current struggle, that movement is not only made up of the living." - Toute la Culture 
presented by Charleroi danse & Kaaitheater
concept & direction Arkadi Zaides | dramaturgy, text and voice Igor Dobricic | research assistant Emma Gioia | performers Arkadi Zaides, Emma Gioia | sculpture Moran Senderovich | 3D modeling Mark Florquin | avatar animation Jean Hubert | animation assistant Thibaut Rostagnat | light Jan Mergaert | sound design Asli Kobaner | grave location search Aktina Stathaki, Amalie Lynge Lyngesen, Amber Maes, Amirsalar Kavoosi, Ans Van Gasse, Arkadi Zaides, Benjamin Pohlig, Bianca Frasso, Carolina-Maria Van Thillo, Christel Stalpaert, Doreen Kutzke, Dorsa Kavoosi, Elisa Franceschini, Elvura Quesada, Emma Gioia, Frédéric Pouillaude, Gabriel Smeets, Giorgia Mirto, Gosia Juszczak, Igor Dobricic, Ilka Van Bijlen, Jordy Minne, Joris Van Imschoot, Julia Asperska, Juliane Beck, Katia Gandolfi, Katja Seitajoki, Lina Gilani Tsitouri, Luca Lotano, Lucille Haddad, Maite Zabalza, Maria Sierra Carretero, Mercedes Roldan, Meret* Heuss, Myriam Van Imschoot, Myrto Katsiki, Osnat Kelner, Özge Atmış, Pepa Torres Perez, Sarah Leo, Simge Gücük, Solveig Gade, Sunniva Vikør Egenes, Tamara Vajdíková, Tilemachos Tsolis, Yannick Bosc, Yari Stilo | technical director Etienne Exbrayat | administration & production Simge Gücük / Institut des Croisements | international distribution Helena Elshout / laGeste (les ballets C de la B & kabinet k) | coproduction Théâtre de la Ville (FR), Montpellier Danse 40 Bis (FR), Charleroi Danse (BE), CCN2 Centre chorégraphique national de Grenoble (FR), les ballets C de la B (BE), Tanz im August / HAU Hebbel am Ufer (DE), La Filature – Scène nationale de Mulhouse (FR) | residency support CCN - Ballet de Lorraine (FR), STUK (BE), PACT Zollverein (DE), WP Zimmer (BE), Workspacebrussels (BE), Cie THOR (BE) | support for experimentation RAMDAM, un centre d'art (FR)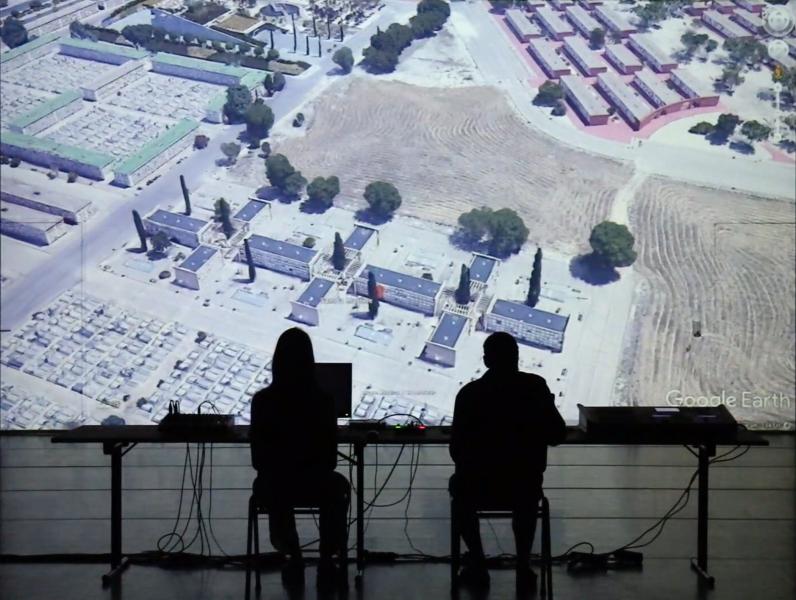 DURATION : 65 min.
LANGUAGE : English — srt. Dutch English French
Elke avond van 19:00 tot 20:30 serveert Yala Na'akoul een buffet met traditionele gerechten uit de Levant, op basis van lokale seizoensproducten. Smakelijk!
→ vr 28/10: panelgesprek met Mathilde Du Jardin (Centre de recherches pénalité, sécurité & déviances - ULB), Elena Bizi (Euromed Rights), Geert Ates (United for Intercultural Action) en Abolish Frontex-leden Celine De Vos & Johanna Dupuis. Gemodereerd door An Vandermeulen (Globe Aroma).
→ za 29/10: nagesprek met Arkadi Zaides, Emma Giola en Rachida Lamrabet (mod.)
Presented by
Kaaitheater
Charleroi danse / La Raffinerie