Fase, Four Movements to the Music of Steve Reich
The iconic Fase, Four Movements to the Music of Steve Reich had its première in 1982 and was choreographer Anne Teresa De Keersmaeker's very first performance and arguably the most performed. 
On four repetitive compositions by American minimalist Steve Reich, three duets and a solo follow one another. Dance, just like music, employs the principle of phase shifting with minute variations allowing initially perfectly synchronised movements gradually to slip and shift, creating a complex interplay of changing shapes and patterns. An independent movement language emerges that takes you to a new dimension in dialogue with the music.   
• Anne Teresa De Keersmaeker (born 1960) created her first choreography Asch in 1980, following dance school at Mudra in Brussels and the Tisch School of the Arts in New York. Two years later, Fase, Four Movements to the Music of Steve Reich premièred. In 1983, De Keersmaeker founded the Rosas dance company in Brussels as part of the creation of the performance Rosas danst Rosas. Her choreographic practice also derives formal principles from geometry, mathematical diagrams, nature and social structures which has resulted in a unique view of the body's movement in time and space. In 1995, De Keersmaeker founded the school P.A.R.T.S. in Brussels. (Performing Arts Research and Training Studios), in collaboration with De Munt/La Monnaie. She has been closely associated with Kaaitheater since the beginning of her dance career. 
choreography Anne Teresa De Keersmaeker | danced by Laura Bachman, Yuika Hashimoto | created with Michèle Anne De Mey, Anne Teresa De Keersmaeker | music Steve Reich: Piano Phase (1967), Come Out (1966), Violin Phase (1967), Clapping Music (1972) | light design Remon Fromont | costumes 1981 Martine André / Anne Teresa De Keersmaeker | rehearsal directors Fumiyo Ikeda | artistic coordination and planning Anne Van Aerschot | technical director Freek Boey | technical coordination Thomas Verachtert | technicians Bennert Vancottem, Jan Simon De Lille, Jonathan Maes | costumes coordinator Alexandra Verschueren | assisted by Els Van Buggenhout | sewing Maria Eva Rodrigues-Reyes en Charles Gisèle | world premiere 18.03.1982 Beursschouwburg (Brussels) | production 1982 Schaamte vzw (Brussels), Avila vzw (Brussels) | coproduction De Munt / La Monnaie, Sadler's Wells (London), Les Théâtres de la Ville de Luxembourg, Théâtre de la Ville (Paris) | special thanks to Ella De Vos, Stefano Scoli | supported by Tax Shelter of the Belgian Federal Government in collaboration with Casa Kafka Pictures – Belfius | Rosas is supported by the Flemish Community and by the BNP Paribas Foundation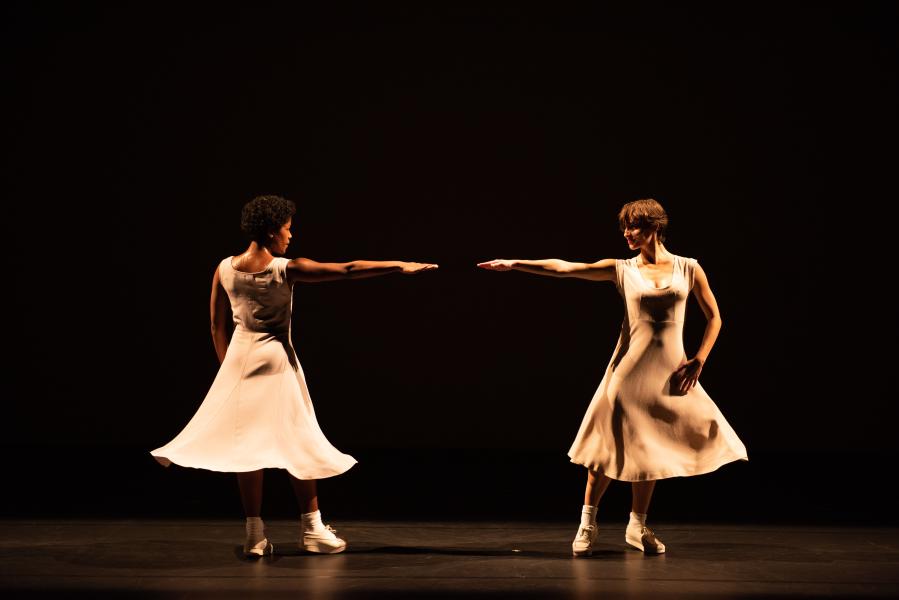 DURATION : 70 min.
Presented by
Kaaitheater
CC De Factorij