By Heart
The poem will survive
In By Heart, Tiago Rodrigues teaches ten people a poem. They have not seen the performance before and have no idea which piece they will learn in front of the audience. While he is teaching them the poem, Rodrigues tells the story of his blind grandmother, who asks her grandson to choose a book for her to learn by heart.
While the poem is being learnt, unlikely connections come to light between the Nobel Prize winner Boris Pasternak, a cook from northern Portugal and Wim Kayzer's TV programme Van de schoonheid en de troost (On beauty and consolation, VPRO, 2000). The secret behind the choice of poem is gradually revealed.
By Heart is a piece about the importance of handing things down, of that invisible passing on of words and ideas that is only possible by memorising a text. About the theatre as a place where anything that is not expressed in metres, euros or bytes can be handed down. About forbidden writings that have always found asylum in our heads and hearts, even in the most barbarous times. As George Steiner said in Van de schoonheid en de troost, 'When ten people learn a poem by heart, there is no KGB, CIA or Gestapo that can do anything about it. The poem will survive.'
By Heart is a course in resistance that is finished when the ten people have learnt the poem by heart.
- The Portuguese actor and author Tiago Rodrigues appeared in the marvellous Nora (2013) by Tg STAN. He was also our guest with his production Yesterday's Men at Spoken World 2008.
#diy #international
written and performed by Tiago Rodrigues | text with fragments and quotes by William Shakespeare, Ray Bradbury, George Steiner, Joseph Brodsky, among others | set, props and costume Magda Bizarro | english translation Tiago Rodrigues, revised by Joana Frazão
executive production on the original creation Magda Bizarro, Rita Mendes | production Teatro Nacional D. Maria II after an original creation by the company Mundo Perfeito
co-production O Espaço do Tempo, Maria Matos Teatro Municipal | created with the financial support by Governo de Portugal | DGArtes
A House on Fire presentation; with the support of the Culture Programme of the European Union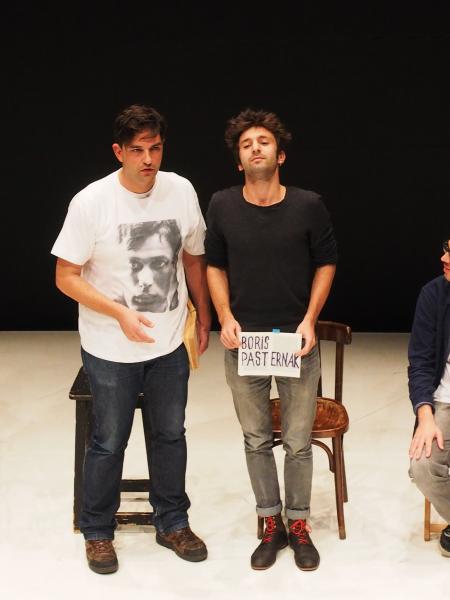 Presented by
Kaaitheater
HOF – House on Fire