La Nuit tombe quand elle veut
La Nuit tombe quand elle veut is an immersive and hallucinatory adventure, populated by flamboyant figures, spectral voices and enigmatic music.   
Latifa Laâbissi and Marcelo Evelin invite the audience to a journey through the night, the time of a timeless vigil, accompanied by the musician-composer Tomas Monteiro, whose theremin amplifies the imaginary states. Their presence mutates, becoming "bodies that see, take in, sediment, cannibalise, archive, bury".   
Exalted by Nadia Lauro's incandescent space, the light they make glow, the languages they emit, their bodies saturated with images merge into a tumultuous and malleable material, in constant metamorphosis. An invitation to a hypnotic journey to brave solitude, finitude and obscurity.  
• Mixing genres, reflecting and redefining formats, Latifa Laâbissi's work seeks to bring onto the stage a multiple off-field; an anthropological landscape where stories, figures and voices are cut out, and through which the signs of the times seep. Having presented Adieu and Merci at Kaaitheater last season, Latifa returns with her latest creation. Born in Teresina, Brazil, Marcelo Evelin is a choreographer, performer, researcher and curator. He lives and works between Amsterdam and Teresina. He develops his own choreographic pieces and his work combines dance, physical theatre, performance, music, video, installation and site-specific creation.   
conception Latifa Laâbissi & Marcelo Evelin | performance Latifa Laâbissi, Marcelo Evelin & Tomas Monteiro | music Tomas Monteiro | "space-costume" Nadia Lauro | figures Nadia Lauro & Latifa Laâbissi | light Chloé Bouju | stage and light technique Ludovic Rivière | sound technique Clément Crubilé | inside eye Isabelle Launay | production Figure Project | co-production Festival de la Cité, Lausanne (CH) / Le Quartz - Scène nationale de Brest / ICI-CCN de Montpellier / CNDC d'Angers / TNB - Centre Européen Théâtral et Chorégraphique, Rennes / La Passerelle, Scène nationale de Saint-Brieuc / Centre National de la danse, Pantin / Festival d'Automne à Paris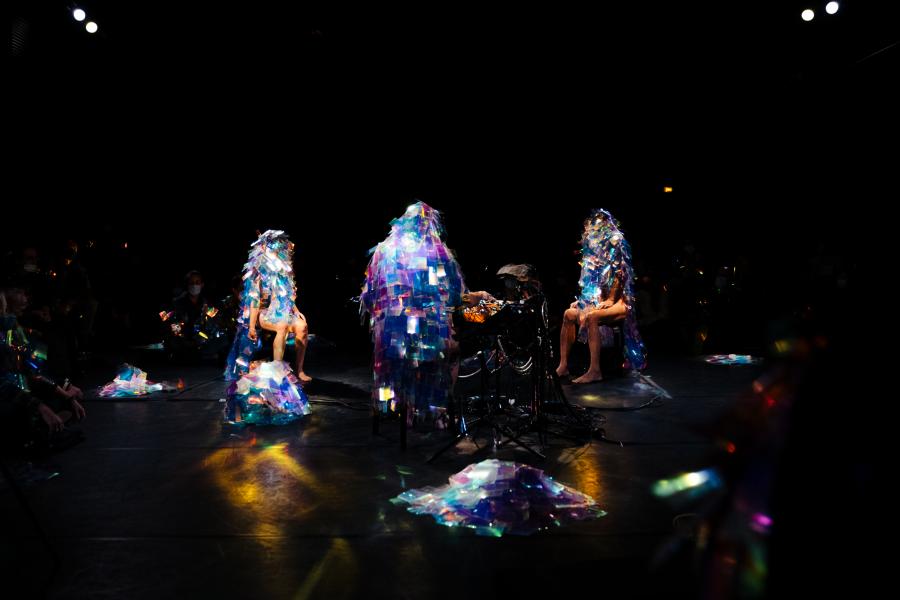 DURATION : 90 min.
Je kan eten in Kaaitheater <3 De Kriekelaar, een uur voor en na de voorstelling.
NERO / NAYNAYDLUXX B2B GABRIELLE SIMON
Nero is een Brussels collectief dat radicale vormen van artistieke expressie promoot. Ze richten zich vooral op mode, dans, muziek en beeldende kunst. Op 04.03 hosten zij een afterparty tot middernacht.