CASCADE
In CASCADE, Meg Stuart and seven dancers reset the clock, challenging reality to take on new forms. Balancing on the edge of a world that is rapidly disappearing, they plunge into another dimension. They go in search of a secret passage, a future playground and refuge. They find their driving force in disruption. Running, falling and getting up again capsizes their bodies as their principles transform and take on new interpretations. CASCADE is an unconditional surrender to what we do not know about the other person. Following an international tour, the show returns to Brussels for what may be your last chance to see it here.
• American choreographer Meg Stuart lives and works in Brussels and Berlin. Her company Damaged Goods has a long-term collaboration with Kaaitheater, where she showed most of her work. For CASCADE, she joins hands with the French scenographer and theatre maker Philippe Quesne – who over the past decade has presented his own shows at Kaaitheater with his Vivarium Studio. Composer and musician Brendan Dougherty created the live music. 
"A brilliant piece about time, uncertainty, openness and solidarity. A perfect interplay of moving bodies with Brendan Dougherty's music and Philippe Quesne's stage and lighting design." — Tanzschrift 
"CASCADE leaves you with only two choices: drift along with this trip or say no. Coming along – no matter how wild the rollercoaster – turns out to be a choice that rewards you richly." — Pzazz 
choreography Meg Stuart | created with and performed by Pieter Ampe, Jayson Batut, Mor Demer, Davis Freeman, Márcio Kerber Canabarro, Renan Martins de Oliveira, Isabela Fernandes Santana | scenography and light design Philippe Quesne | dramaturgy Igor Dobricic | music composition Brendan Dougherty | live music Philipp Danzeisen and Rubén Orio | costume design Aino Laberenz | text Tim Etchells / Damaged Goods | assistant scenography Elodie Dauguet | assistant costumes Patty Eggerickx | assistant creation Ana Rocha | technical direction creation Jitske Vandenbussche | assistant technical director creation Tom De Langhe | light technician creation Nico de Rooij | sound design Richard König | production management Delphine Vincent, Ana Rocha, Eline Verzelen | technical coordinator on tour Tom De Langhe | light on tour Roeland Schuijten | sound on tour Vagelis Tsatsis | stage manager Kevin Strik | stagehand Matty Zighem | dresser Patty Eggerickx/Emma Zune | tour manager Delphine Vincent | rehearsal director Jorge de Hoyos | thanks to Sofia Borges, Francisco Camacho, Jorge de Hoyos, Sofie Durnez, Samuli Emery, Caitlin Fisher, Vincent Malstaf, Giulia Paolucci, Stéphanie Pitiot, Susan Tobiason | production Damaged Goods, Nanterre-Amandiers (Paris), PACT Zollverein (Essen), Ruhrtriennale – Festival der Künste 2020 | supported by the Fondation d'entreprise Hermès within the framework of the New Settings Program | co-production December Dance (Concertgebouw and Cultuurcentrum Brugge); Festival d'Automne à Paris, HAU Hebbel am Ufer, Berlin; théâtre Garonne - scène européenne, Toulouse; Arts Centre VIERNULVIER, Ghent; Perpodium | created with the support of the Tax Shelter of the Belgian Federal Government. Meg Stuart & Damaged Goods are supported by the Government of Flanders and the Flemish Community Commission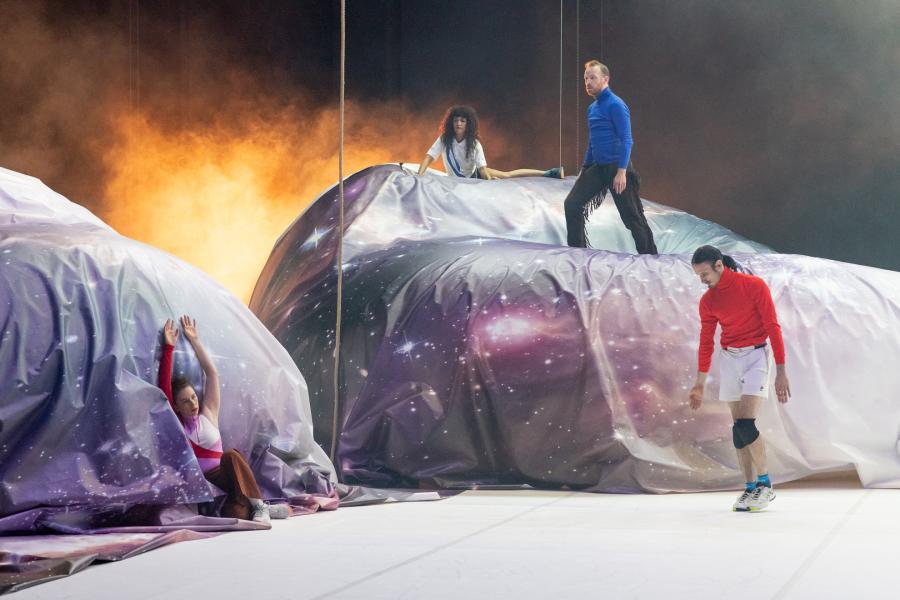 DURATION : 105 min.
LANGUAGE : English — srt. French Dutch